Terns and waders dominated the highlights in an exciting month in the Estuarine league.
A mixed Tern flock at Oldbury Power Station provided the highlight for Peter Hazlewood who picked South Gloucestershire's first Whiskered Tern along with seven Black Terns. It also helped him to sail past 100% marker in the comparative league and take top spot. Joost Brandsma added Cetti's Warbler and Spotted Flycatcher in the month to retain second place whilst Ian Ballam Lytchett Bay patch makes up the top three as he enjoyed watching Black-Winged Stilt and Glossy Ibis in what must have felt like a very continental May!
Dave Craven retains his top spot as his excellent year continues. Bonus points went into the pot for Honey Buzzard but others beat him to it for the month's rarest patch birds with a Broad-Billed Sandpiper and Temminck's Stint. Add to that a bunch of two-pointers and he still has quite a margin in top spot with a very impressive 171 species. The Frampton / Freiston powerhouse is well represented in the top ten, with Daniel Newton the highest in second. Howard Vaughan found a Serin in the month and enjoyed a rather confiding Razorbill in the least Razorbill-like habitat you could imagine.
Alan Crossley at Saltholme had a good month with a brace of Whiskered Terns as well as a Great Reed Warbler in full song. Daniel Newton's second spot in the points league was certainly assisted when he found a smart Broad-Billed Sandpiper and Temminck's Stint. Most of the patchers at Frampton / Freiston also bagged points for Wryneck whilst Black-Winged Stilts were the flavor of the month turning up at both Frampton and Lytchett Bay.
Glossy Ibis is now a regular feature of the spring in the UK and as such will be downgraded to a three pointer next year. For some though, it is still a rare bird as demonstrated by the bird at Lytchett Bay which was the first since two birds were shot in 1847! Also enjoying this elegant Ibis was Graham Jones at Hesketh Out Marsh who added bonus points for his find.
Another continental wanderer is the Purple Heron which put in appearances at Snettisham Coastal Park and Topsham, certainly the highlight of the month for Irene Boston and Martin Elcoate.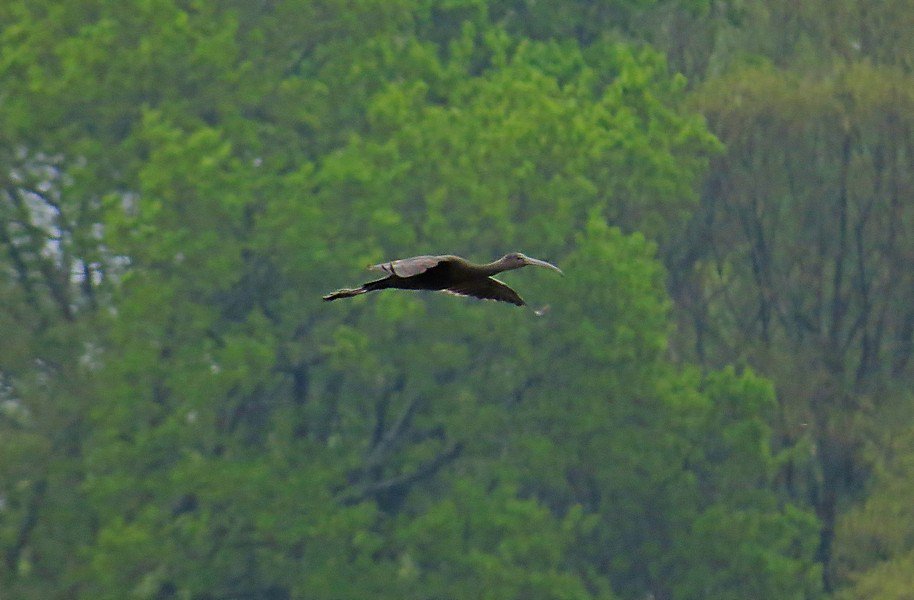 This Glossy Ibis at Lytchett Bay on May 11th was the first since 1847! c/o Ian Ballam